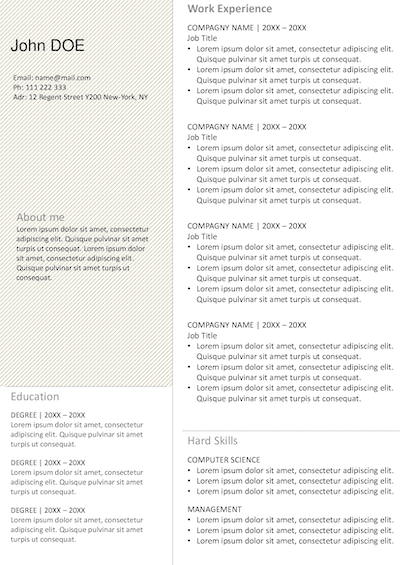 ---
Free Framed Resume To Download
Description
File Size : 68 kB
Published : 2020-12-01 09:54:00
Resume : Free Download
File Name : Framed_Resume.pptx
Compatibility
Microsoft Powerpoint
Google Slide
Only Office
Export PDF
A resume presented in table form with a gray background.
This template is arranged in two columns, which in turn are divided into two parts. This atypical structure is balanced by a more classic color range: the resume is laid out on a gray-beige color range. This layout of your career and skills allows you to show your future employer that you are able to organize your priorities and structure information according to its importance. That is why you should use this type of resume if you want to highlight your organizational skills and conciseness. As a large amount of space is reserved for your experience, we recommend this type of resume for people with extensive experience, particularly in the service sector.
Check out our other models
Disclaimer : Resume examples cannot be used on other sites. The content of this site is protected by copyright. The available models are delivered "as is" and without warranty.