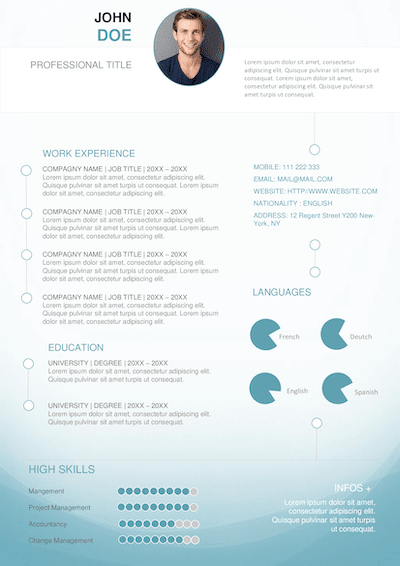 ---
Free Pro Resume To Download
Description
File Size : 91 kB
Published : 2020-12-02 15:42:00
Resume : Free Download
File Name : Pro_Resume.pptx
Compatibility
Microsoft Powerpoint
Google Slide
Only Office
Export PDF
A professional resume with a blue background.
This resume is defined by its white to blue gradient. These are appealing colors, designed in an original layout to make your application stand out. Your experience and education are tied together by small bubbles on a line. This emphasizes how your different facets are linked together, one serving the other, making your resume fluid. In this resume, the reader's attention is quickly drawn to your language skills, since their presentation is in the form of an eye-catching pie chart. Of course, space is left at the bottom for the description of your skills. This template allows you to submit a comprehensive application (especially since we also provide you with a cover letter). We recommend this template for the service sector or management positions.
Check out our other models
Disclaimer : Resume examples cannot be used on other sites. The content of this site is protected by copyright. The available models are delivered "as is" and without warranty.