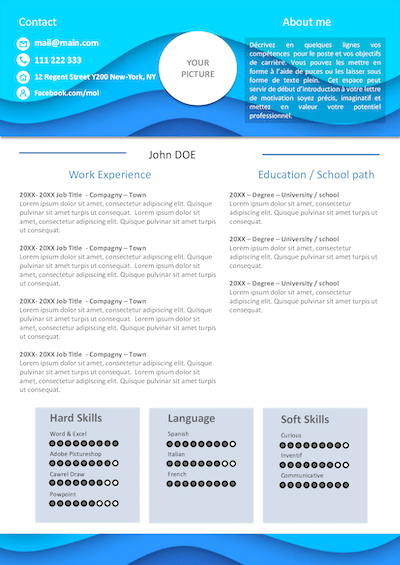 ---
Free Synthetic Resume To Download
Description
File Size : 119 kB
Published : 2020-12-02 14:24:00
Resume : Free Download
File Name : Synthetic_Resume.pptx
Compatibility
Microsoft Powerpoint
Google Slide
Only Office
Export PDF
A simple resume that gets straight to the point.
This model is particularly gentle. It is composed of white and blue colors mainly. The blue strips at the top and bottom of the page resemble waves and the sea. As a result, this resume inspires a feeling of serenity. Moreover, this layout makes it possible to clearly distinguish the professional part of your career from the more personal elements of your application, i.e. your personality and skills. We, therefore, recommend the use of this resume for any job search in the service sector or the sale of beauty products. Bonus tip: this template is perfect for you if you want to work in a spa.
Check out our other models
Disclaimer : Resume examples cannot be used on other sites. The content of this site is protected by copyright. The available models are delivered "as is" and without warranty.