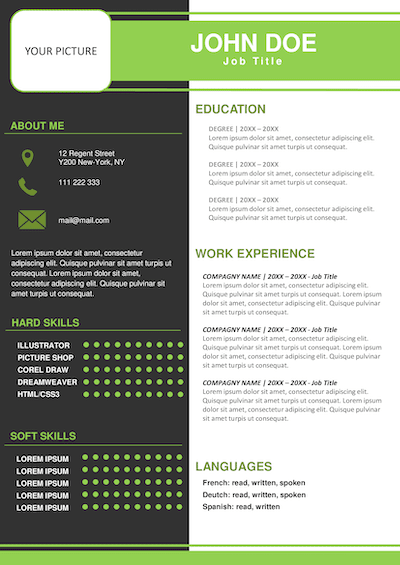 ---
Free Single page Resume To Download
Description
File Size : 96 kB
Published : 2020-12-02 09:58:00
Resume : Free Download
File Name : Single_page_Resume.pptx
Compatibility
Microsoft Powerpoint
Google Slide
Only Office
Export PDF
One page, two columns, and dynamic colors.
This template is particularly unique. It is arranged in two columns. The one on the right is on a white background and allows you to describe your education as well as professional experiences you feel are relevant. The left-hand column is on a black background and will allow you to rate your skills and character. The contrast between these two columns is complemented by a bright green banner that shows who you are. As this resume is characterized by its originality stemming from the range of colors used, we strongly recommend it for spontaneous applications in order to make you stand out.
Check out our other models
Disclaimer : Resume examples cannot be used on other sites. The content of this site is protected by copyright. The available models are delivered "as is" and without warranty.