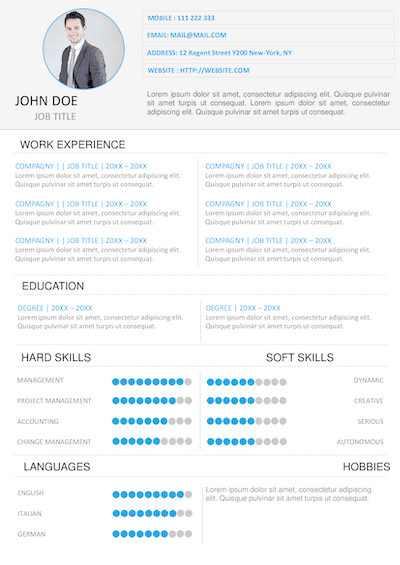 ---
Free Fun Resume To Download
Description
File Size : 114 kB
Published : 2020-12-01 18:24:00
Resume : Free Download
File Name : Fun_Resume.pptx
Compatibility
Microsoft Powerpoint
Google Slide
Only Office
Export PDF
Here is a classic and reliable resume.
The information presented is very easy to read. The small hints of blue bring cheerfulness to the white and gray presentation. These touches of colors highlight your skills: they are noticeable right from the first glance. It is a template that is adapted for when a recruiter is looking for someone with a particular personality (ex: someone dynamic). Moreover, this layout ensures your application is appealing even if you do not yet have much experience: you are offering recruiters your commitment and motivation. A cover letter is provided with this resume.
Check out our other models
Disclaimer : Resume examples cannot be used on other sites. The content of this site is protected by copyright. The available models are delivered "as is" and without warranty.