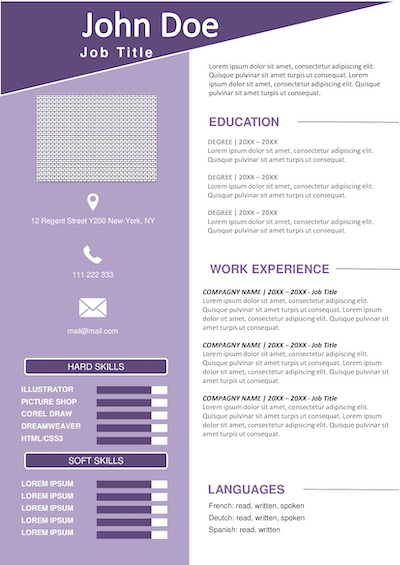 ---
Free Resume To Fill In
Description
File Size : 91 kB
Published : 2020-12-01 15:05:00
Resume : Free Download
File Name : Fill-In_Resume.pptx
Compatibility
Microsoft Powerpoint
Google Slide
Only Office
Export PDF
A purple resume arranged in two columns with a focus on your skills and personality traits.
Here is a bold and original model. Arranged in two columns and a white and purple color range, this resume shows your originality. Moreover, a significant amount of space is left for the detail of your personality and your personal skills. Therefore, we particularly recommend this resume for a job search in a sector where your personality and skills are key recruitment factors. Thus, this structure is suitable for positions with children or in the field of human services. Lastly, while the model presented here is eye-catching and allows you to stand out from the crowd, it is still organized so that you can detail your training and previous work experience.
Check out our other models
Disclaimer : Resume examples cannot be used on other sites. The content of this site is protected by copyright. The available models are delivered "as is" and without warranty.